Displaying items by tag: site seeing
Tuesday, 21 June 2022 23:26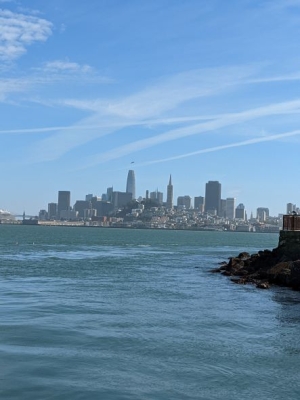 Day one
As soon as I stepped out into the 40-degree morning and saw my breath leave my body, I felt like I could live there. The plane ride from Jacksonville to San Francisco was one of the best I've experienced. Even in the days of mask wearing, the trip went off without many issues, despite having a 30-minute delay on the first flight from Jacksonville to Dallas.
The Lyft driver was a friendly fellow from India who chatted pleasantly as he drove me to the Hilton Hotel in Burlingame that first night. The check-in was quick and easy, and even when my room key didn't work when I swiped it, the front desk attendant had it quickly taken care of. I would only be staying there one night and staying with a friend the rest of my time there.
Feeling groggy from being on Eastern Standard Time, I jotted down some notes in my travel journal as I sipped my coffee in the hotel lobby the next morning. My phone dinged a notification. Thinking it was a text message, I opened it only to be reminded of "three years ago" with a picture of my husband and I out on some trail.